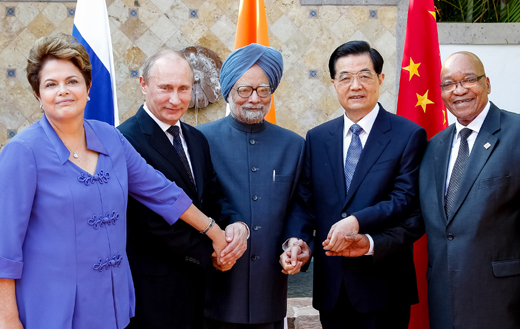 Créer un fond monétaire EuroBRICS
Les pays du BRICS ont annoncé récemment qu'ils entendaient mettre en place dans les prochains mois l'équivalent du FMI et de la Banque mondiale dans le cadre de l'association qu'ils ont décidé de créer entre eux il y a environ un an.
Ukraine crisis shows global governance is in a mess, and the West knows why
The crisis surrounding Ukraine shows that global governance is in a mess, but events there are merely a symptom of something larger. My visit to Washington for the spring meetings of the International Monetary Fund and World Bank set me wondering whether western democracies are much guiltier than we are prepared to admit.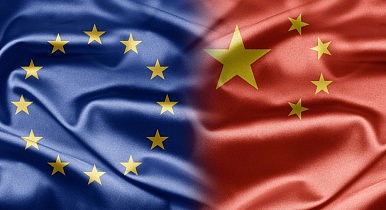 Building 'A Bridge Between China and Europe'
While the U.S. revitalizes East Asian alliances, China looks for new partners in Europe.
Chinese President Xi Jinping's visit to Europe. The program was even given a grandiose title: "A Bridge Between China and Europe." China's media continues to play up the success of Xi's first visit to Europe.
The Diplomat
'Ties with neighbours is priority'
Historically, foreign policy has rarely played a decisive role in the Indian elections although issues like the nuclear deal with the U.S. have led to domestic storms. In this interview Neelam Deo, Director, Gateway House, explains why foreign policy has only occasionally been a key factor in the elections.
Gateway House
Entre gouvernance et surveillance, le coeur du Netmundial balance
Les Etats regroupés à Sao Paulo devaient se mettre d'accord sur des principes liés à la gouvernance, mais n'avaient visiblement pas prévus l'irruption - pourtant attendue - de la question de la surveillance.
Zdnet.fr
Europe dragged into a division of the world between debtors and creditors
In the present confrontation between Russia and the West over the Ukrainian crisis, the image of the Cold War inevitably comes to mind and the media are obviously fond of it...
GEAB 84 – LEAP2020
Seeing South Africa through the eyes of foreign investors
My brother has just returned to South Africa after living in Geneva for 14 years. He is going to reside in Johannesburg and work for Discovery Health and he is deliriously happy. "Why are you coming back? Especially now?"
BRICS Info
Brazilian president champions Internet privacy
Brazil's President Dilma Rousseff Wednesday championed Internet privacy and slammed blanket online surveillance at a global gathering on the issue in Sao Paulo. Speaking at the opening of the conference she convened following revelations last year that U.S. security agencies used the Internet to spy, Rousseff said such misuse of the web was "unacceptable."
Xinhuanet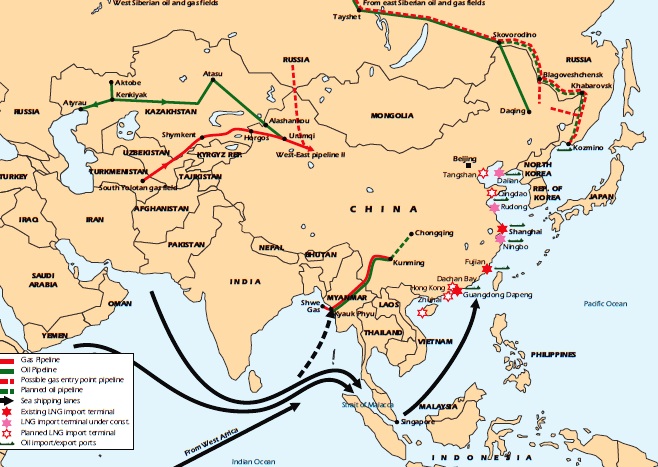 Russia, India Planning $30 Billion Oil Pipeline Through Xinjiang
Russia is changing its energy export policy vector as strong demand for hydrocarbons in both in China and in India continues to grow. The recent unease in both the U.S. and Europe over Russian President Vladimir Putin's March 17 annexation of Crimea has only added to Moscow's efforts to diversify its markets beyond Europe.
Oil Price
The BRICS countries: an emerging actor in development cooperation?
he BRICS countries are becoming a very important player in a rather unlikely arena: development cooperation. Here's why they are better off working together as a bloc, rather than as individual countries. In the last decade, the BRICS countries have increased their presence in a rather different field, in development cooperation.
CKGSB
The Russian world is coming to Europe
President Putin's Direct Line on April 17 offered a wonderful opportunity for reflecting on the present and the future of European civilization. The head of state sought to express his most fundamental ideas about the current geopolitical environment in Europe, and it was clear that his outlook on this issue is holistic and dynamic, yet inherently precise.
Oriental Review
Reform of the Bretton Woods Institutions: The IMF Might Not Live to See Its Anniversary
2014 marks 70 years since the Bretton-Woods Conference, at which the main parameters of the post-war world currency and financial system were defined and the decision to create the International Monetary Fund was made.
Global Research
-----------------------------
This special Press Review proposes a selection of articles from the French and English-speaking international online media relating to Euro-BRICS relations. It is delivered freely by LEAP on a weekly basis to recipients worldwide.