Rousseff wins first round of Brazil election
Brazil's President Dilma Rousseff comfortably won Brazil's first round of voting with 41.6 per cent Sunday, but did not attract enough voters to avoid a second round, in which she will face centrist Aécio Neves.
The BRICS Post
De-Dollarization: Europe and China Start Direct Trading In Euros and Renminbi
De-dollarization has been an ongoing theme hidden just below the surface of the mainstream media for more than a year as Russia and China slowly but surely attempt to "isolate" the US Dollar. Until very recently, direct trade agreements with China (in other words, bypassing the US Dollar exchange in bilateral trade) had been with smaller trade partners.
Global Research
Russie: pas de mise en veilleuse des relations avec l'Europe (Poutine)
La Russie n'entend pas mettre en veilleuse ses relations avec l'Europe, malgré l'élargissement de la coopération avec l'Asie et l'Amérique latine, a déclaré jeudi le président russe Vladimir Poutine lors du forum d'investissement de VTB capital "L'Appel de la Russie" qui se déroule à Moscou.
RIA Novosti
2013: A recommendation to Euro-BRICS leaders: Organize a mini Euro-BRICS Summit, ahead of the St Petersburg G20
As a result of the 3rd Euro-BRICS seminar organized by LEAP in partnership with MGIMO in Cannes on September 27-28, 2012, the experts from Euroland and BRICS countries who gathered for the occasion, wished to give their leaders a series of arguments in favour of holding a mini-Euro-BRICS summit ahead of the St Petersburg G20.
GEAB N°71 (January 16, 2013)
India, BRICS to seek faster reforms at International Monetary Fund, World Bank meets
India, along with other BRICS-member countries, will "aggressively pitch" for expediting reforms at the International Monetary Fund and World Bank Group at the forthcoming annual meetings of these global bodies.
Financial Express
La Chine renforce son influence en Europe
Le yuan chinois ne fait plus référence aux cotes du dollar américain lors des échanges contre l'euro. Le 30 septembre, les échanges directs yuan-euro ont commencé en Chine et en Europe.
RIA Novosti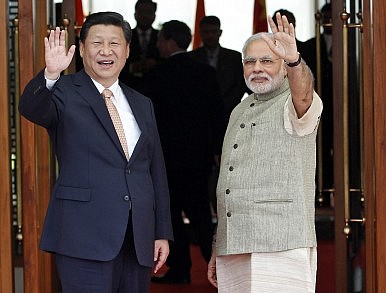 Can China and India Cooperate in Afghanistan?
Their border disputes and maritime rivalry aside, China and India may be able to make common cause in Afghanistan. Afghanistan is going out of fashion among governments in the West, as attention shifts to a disintegrating Middle East and a new battlefront in Eastern Europe.
The Diplomat
Europe still a key partner for Russia, but China a priority – Putin
Trade with Russia's largest partner Europe will continue, but cooperation with Asian countries, especially China, are a priority for the Kremlin. "This is our conscious choice and it wasn't just made yesterday, or the day before. We made it many years ago, on par with the trends of the global economy," Putin said.
RT
China, Russia to sign 30 agreements during annual meet
Russia and China will ink more than 30 agreements on energy, finance and high-speed rail cooperation during the annual Russia-China Prime Ministers summit to be held on 13 October, China's Foreign Ministry spokesperson announced on Saturday.
The BRICS Post
Nucléaire: pourquoi l'Afrique du Sud a choisi la Russie?
L'Afrique du Sud a finalement choisi la Russie pour son futur parc nucléaire. Un protocole d'accord signé à Vienne par les deux pays prévoit jusqu'à huit réacteurs. C'est un désaveu pour la France, qui convoitait depuis longtemps le plus grand marché public de toute l'histoire de l'Afrique du Sud - il pourrait porter sur 40 milliards d'euros.
RFI
Europe looking to 'drive forward' EU-China partnership
China's ascent last year as the largest trading nation in the world, surpassing the US with total trade in goods amounting to €3.21 trillion, arguably marked an inevitably manifest, but hardly revelatory, shift in international markets, from west to east.
The Parliament Magazine
La Chine et l'Inde s'engagent à renforcer les relations bilatérales
Le ministre chinois des Affaires étrangères Wang Yi et son homologue indienne Sushma Swaraj ont convenu jeudi de renforcer les relations entre les deux pays asiatiques voisins.
French China
Emerging markets eye renminbi trading alternative to dollar
With some effort, it is possible to discern the outline of a future "renminbi zone" emerging as a rival to the "dollar zone" that has dominated the world's financial system since the end of the second world war.
FT
This special Press Review proposes a selection of articles from the French and English-speaking international online media relating to Euro-BRICS relations. It is delivered freely by LEAP on a weekly basis to recipients worldwide.